Jeltz didn't last very long on the open market. The first offer happens to be the first trade of hopefully many.
Here's the deal: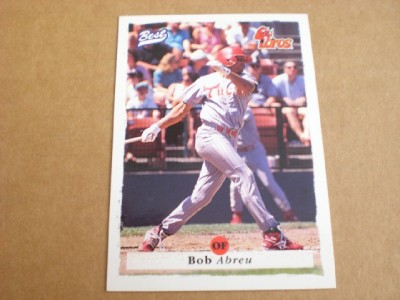 Comments: This is a HUGE upgrade on the Jeltz. Abreu was possibly one of the three greatest OFers in Phillies franchise history. Richie Ashburn is our all-time CF, probably throw Chuck Klein in LF, and Bobby in RF, if I was putting the team together.
And I just got his 1995 Best minor league rookie card- Graded an impressive 9 by the fine folks of USAsportscards.com, no less. This is a very, very generous offer- one I'm happy to trade on. Thank you Jim!!! Please do enjoy your 1986 Topps Steve Jeltz- it is a special, little worthless piece of cardbord.
And thanks to you for checking out the site- their will be gradual improvements as I learn the art of the blog- please do bear with me.
And keep sending those offers!!!!